Dr. Colin Zhu is a double board-certified Family/Lifestyle medicine doctor and he interviews the latest health and wellness experts about incorporating a plant-powered lifestyle, enhancing emotional wellness, and creating a thriving mindset! Catch our new episodes on YouTube: https://bit.ly/TheChefDocYT
Episodes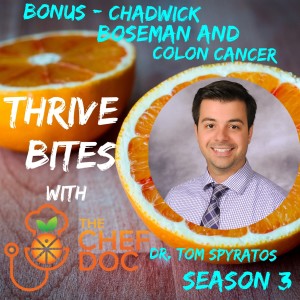 Wednesday Sep 02, 2020
Wednesday Sep 02, 2020
In this special episode of Thrive Bites, I sit down with my good friend Dr. Tom Spyratos about the recent passing of Chadwick Boseman and his diagnosis and battle with colon cancer and WHAT YOU NEED TO KNOW NOW! YOU DON'T WANT TO MISS THIS!
Dr. Tom Spyratos is a practicing gastroenterologist in Olympia Fields Illinois, a community located about 25 miles southwest of downtown Chicago. He is actively involved in the graduate medical education program at Franciscan Health - Olympia Fields helping teach internal medicine residents and gastroenterology fellows.  
Dr. Tom has received my medical degree from the West Virginia School of Osteopathic Medicine and then completed his internal medicine residency at Lutheran General Hospital and a gastroenterology fellowship through Midwestern University.  I am board certified in internal medicine and gastroenterology. 
*Interview views are opinions of the individual. This podcast is not a source of medical advice*
Copyright © 2020 by TheChefDoc, LLC
All text, graphics, audio files, Java applets and scripts, downloadable software, and other works on this web site are the copyrighted works of TheChefDoc, LLC. All Rights Reserved. Any unauthorized redistribution or reproduction of any copyrighted materials on this web site is strictly prohibited.